Maria Montessori was, in many ways, ahead of her time. Born in the town of Chiaravalle, in the province of Ancona, Italy, in 1870, she became the first female physician in Italy upon her graduation from medical school in 1896.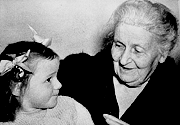 Her desire to help children was so strong, however, that in 1906 she gave up both her university chair and her medical practice to work with a group of sixty young children of working parents in the San Lorenzo district of Rome. It was there that she founded the first Casa dei Bambini, or "Children's House." What ultimately became the Montessori method of education developed there, based upon Montessori's scientific observations of these children's almost effortless ability to absorb knowledge from their surroundings, as well as their tireless interest in manipulating materials. Every piece of equipment, every exercise, every method Montessori developed was based on what she observed children to do "naturally," by themselves, unassisted by adults.
What is Montessori?
Montessori is an approach to the education of children. It is a way of looking at, and understanding children. It is a view of how children develop and learn which has been translated into a systematic method of education based upon careful scientific study. The Montessori educational system is unique in that it has successfully undergone continued development for one hundred years, and has been used effectively with mentally retarded, physically handicapped, normal, and gifted children in different countries around the world. Perhaps the most significant reason for its success is that it is a comprehensive method of education resulting from an integration of research on development, learning curriculum, and teaching.
How is Montessori program different from other programs?
A Montessori program is different from other programs in a number of ways.
It teaches to individuals instead of to groups. In many other classrooms, lessons are presented to the whole class. In Montessori school the general rule is reversed. Most of the time the teacher presents lessons to individuals. Other children can watch if they are interested. In this way, the teacher can address the specific needs of a child and respond to individual interest.
In Montessori, children learn through practicing tasks rather than through listening and having to remember. They learn by practicing with apparatus which embodies the concept to mastered. For example, when learning about shapes such as triangles, squares, circles, etc., instead of listening to a teacher talk about the shapes and watching them drawn on the chalkboard, the children trace real figures and make designs. They fit different shapes together to make patterns. They fit shapes into the correct corresponding holes to develop fine visual discrimination.
The Montessori curriculum is much broader than many other programs. The Montessori program teaches more than just the basics. First of all, it has exercises to develop the child's basic capacities - his or her ability to control movement (motor development), to use senses (perceptual development), to think (cognitive development), to decide (volitional development), and to feel and have emotions (affective or emotional development). In this way, the program helps the child become a competent learner. This develops independence and responsibility. In addition, the curriculum also helps the child develop a strong foundation in language and math, and an in-depth study of physical and cultural geography, zoology, botany, physical science, history and art. Children further learn practical skills for everyday life such as cooking, carpentry, and sewing. But more than this, they learn how to be contributing members of a social community.